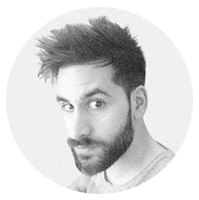 Born in Argentina in 1991, he moved with his family to Spain the year 2002. He studied Graphic Design at EASD Valencia. Nowadays he's looking for a job in an agency, meanwhile working on all kinds of projects and collaborations.
Passionate about editorial design (books, magazines...), branding, typography, UI and video games.
Let's work together! Send an email to
design@ezek.me
︎︎
My CV
[English].
---
Nacido en Argentina en 1991, vive España desde el año 2002. Graduado en diseño gráfico en la EASD València. En estos momentos intenta encontrar sitio en una agencia, mientras tanto realiza todo tipo de proyectos y colaboraciones. Apasionado por el diseño editorial (libros, revistas...), branding, tipografía, UI y videojuegos.
¡Trabajemos juntos! Envía un email a
design@ezek.me
︎︎
Mi CV
[Español].
---
Currently ︎︎︎
Graphic Designer/Art Director, Héroes de Papel
— Since January 2017
Before ︎︎︎
Visual Designer,
FCB&FiRe
— September 2018 - April 2020
Art Director, GameReport
— January 2015 - June 2020
---
Featured clients: